One of Tucson, Arizona's premiere store for comic books, anime, manga, toys, collectible and novelty items. We pride ourselves on service, quality of merchandise, and a very friendly attitude.
24 years serving Tucson!
2406 N. Campbell Avenue

[at Grant Road]
R-Galaxy's Auctions in Progress

R-GALAXY IS OPEN SEVEN DAYS A WEEK
Store Hours:
11:00am-8:00pm Tuesday-Wednesday-Thursday-Friday
11:00am-6:00pm Saturday-Sunday-Monday
Call for Holiday Hours
We buy your used action figures, comics, toys, Japanese and anime merchandise, music cds, DVDs, collectible card games, movie posters, video games, and other pop culture collectibles
We offer a free comic book and magazine subscription service
We cater to a wide variety of tastes, and carry the cool, unusual, and harder-to-find popular entertainment
We carry a large assortment of pop culture collectibles including:

Rare Comic Books, Action Figures, DVDs, and Music CDs, Plush Toys and Model Kits, Collectible Card Games like Magic The Gathering, Trading Cards and Sports Cards, Posters, Wall Scrolls and Prints, T-Shirts, Caps, Buttons, Keychains, and Accessories, Manga, Trade Paperbacks, Video Games, Unusual Anime collectibles and Anime Soundtracks, Original Art, Calendars, Art Books and many other Collectibles...
The universe is in your hands at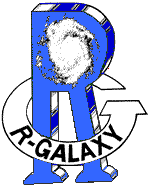 Forms of Payment:
R-Galaxy does not accept checks,
except for American Express Traveller's Checks.
R-Galaxy does accept U.S. currency, Paypal,
Visa and Mastercard.

For detailed information about our payment system for all online purchases, please read all you need to know about R-Galaxy On-Line Shopping, Choice of Shipping, Secure Payments and Returns.