Bringing into the 3D what was only 2D before, toys and action figures can really make us happy by connecting us with the fantasies and imagination of comic books. Toys bring the comic books to life, and now with cosplay so big, I guess that we are the toys now, haha! If action figures and toys are your passion, then you will love R-Galaxy, especially our huge in store collection.
Here are some of our toys online:
Toys on R-Galaxy eBay store
All Toys Movie-related TV-related Anime-related
Star Wars Marvel DC Star Trek Transformers
McFarlane/Spawn Halo All Others
Amazon Store
Amazon does not make it easy to sort by product, so instead we include our Amazon Store page, where you can type into our SEARCH field for the action figure or toy that you are looking for.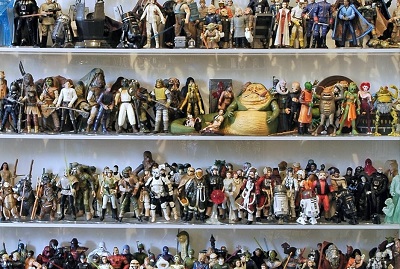 Selling your new and Used Action Figures and Toys to R-Galaxy

Contact us by phone (520-322-0422), or by e-mail (rgmail@r-galaxy.com) and tell us about your collection of toys and action figures, and we will let you know which ones that we are interested in looking at and potentially buy. We offer cash and/or trade credit the same day you bring in the items you want to sell. As a rule, loose toys out of their originally packaging are worth a large percentage less than new and in the original packaging. We are looking for all varieties of action gigures, and many types of toys, especially pop culture and cartoon, comic book and anime-related toys and action figures. We specialize in Star Wars, Transformers, He-Man, Robotech and many 70s, 80s and 90s vintage toys.
No appointment is necessary for our buyers to look at your collections, but it does help to call ahead to (520) 322-0422 to discuss your collection so that we may help to let you know what to bring in. Otherwise, you may just show up anytime during store hours, with the exception of right before closing as we would not have time to inspect your collection the same day at that point.
We hope that you have a happy buying, selling and trading experience at R-Galaxy!