R-Galaxy is located at
2406 N. Campbell Avenue
in Tucson, Arizona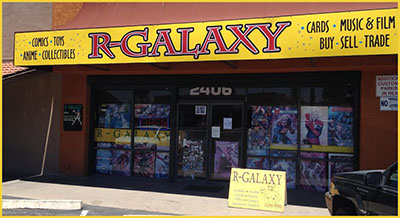 We are located at the Northeast corner of Campbell and Grant, just across Campbell Avenue from Nationwide Vision. Our center offers community parking, so you may park all around the neighboring shopping center.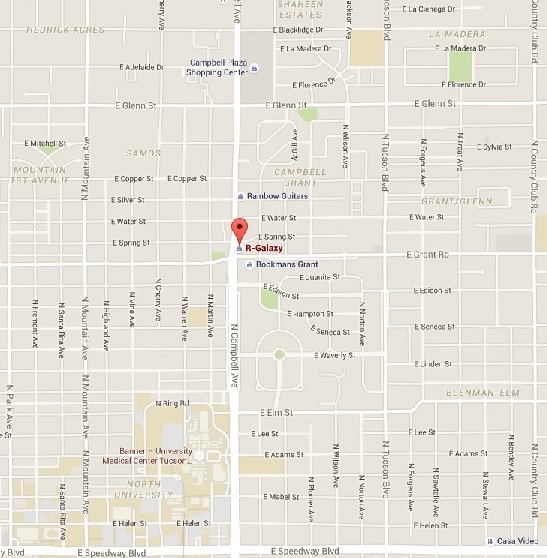 Store Hours:
11:00am-8:00pm Tuesday-Wednesday-Thursday-Friday
11:00am-6:00pm Saturday-Sunday-Monday
Call for Holiday Hours
Call us at (520) 322-0422
or send us an e-mail to
rgmail@r-galaxy.com
R-Galaxy DOES NOT accept any checks,
except for American Express Traveller's Checks
with driver's license or passport documentation.
R-Galaxy DOES accept U.S. currency,
payments made through Paypal,
and the following credit cards:



History of R-Galaxy
R-Galaxy began on November 30, 1993. The first location of R-Galaxy was set inside a small 150 square foot corner of an independent video store located in a strip mall on the northwest corner of 5th Street and Rosemont, near Rincon High School. After operating there for four months, a more prominent location was needed, and in April 1994, R-Galaxy relocated to a small 1000 square foot space at 2536 E. Broadway.
With an emphasis on creating a pleasant environment and great service for their customers, the business flourished and in October 1996 R-Galaxy expanded into the adjoining space to the west and continued to grow with the help of family, friends, a good staff, and an ever-increasing customer base.
In the fall of 2001 plans were finalized to re-locate R-Galaxy to its new home at 2420 N. Campbell, increasing its store size by 250%, and by March 2002 the move began. On May 4, 2002, R-Galaxy had its Grand Opening at its new and current location. Most recently, R-Galaxy moved one door over to 2406 N. Campbell Avenue on May 2, 2013, where we now look forward to many more years serving the Tucson community, and all our online customers throughout the world.
Thanks to all our customers over the years who have helped us. We appreciate you and your patronage very much!